Ignition Lock for 2019 Hyundai Elantra GT
No.
Part # / Description
/ Price
Price
Instrument Panel Screw
Lower Column Cover Screw
Us built. 2019-20. 2021-23 without hybrid. 2.5L receiver. frm 02/21 to 08/22. 2.5L speakers & amplifiers. to 08/29/21.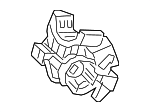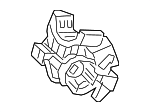 2016-2021 Hyundai Ignition Switch
Ignition Housing
Without Veloster N, without immobilizer, with electric type. Tucson. With smart key. Elantra GT. Without start button.
Ignition Lock Housing Bolt
Ignition Housing Bolt
Without hybrid. 2021-23. Korea built. Without Veloster N. With sport. 2.5L. Wagon. 2019-20.